NEWRAD 2011 at a glance, September 18-23, 2011 (CCPR, Science Committee and MOBY meetings are closed sessions)
NOTE: Check the events and time indications from the final program and check the NEWRAD Office daily for last minute schedule changes.
Questions?: Come to the NEWRAD Office for answers to your conference questions. The NEWRAD Office is located in the Silversword Room.
Exhibitor area will be available from 8:00 to 17:00 daily in Ilima #1.

Date

17-Sep

18-Sep

19-Sep

20-Sep

21-Sep

22-Sep

23-Sep

24-Sep

25-Sep

Day

Saturday

Sunday

Monday

Tuesday

Wednesday

Thursday

Friday

Saturday

Sunday

Room

Ilima 2/3

Ilima 2/3

Hakeakala 3/4

Hakeakala 3/4

Hakeakala 3/4

Hakeakala 3/4

Bus Tour

Ilima 2/3

Ilima 2/3

8:00

Registration
Open
Registration
Open
Registration
All day

***



Haleakala

Summit

and

Science

City

Tour

Meal

@

Kula Lodge
MOBY


Meeting
MOBY


Meeting

9:00

CCPR


WG-KC


Meeting
CCPR
WG-SP
Meeting
Session
1
Session
2
Session
4
Session
6

12:00

Registration
Open
All day

@
the
Silversword
NEWRAD
Office

Lunch

Lunch
&
Posters A
Lunch
&
Posters B
&
Science
Committee Mtg
in Ilima 2/3

Lunch

13:00

Special
session:
EO
(Fox)
Special
session:
Photons
(Lee)

14:00

Session
3
Session
5

16:00

Sunset
Cruise

From

Maalaea
Harbor


17:00

Banquet

Hawaiian
Luau

in
Lahaina Town

18:00

Welcome
Reception
on
Chapel
Lawn

21:00
*** We have changed the timing of the Haleakala trip to accommodate those with Airline connections late on Friday.
The Tour bus will be stopping at the airport before returning to the Grand Wailea for those requesting an airport drop off.
The bus will drop off at the Kahului airport by 16:00 Friday afternoon, Checkout Friday morning and bring your baggage.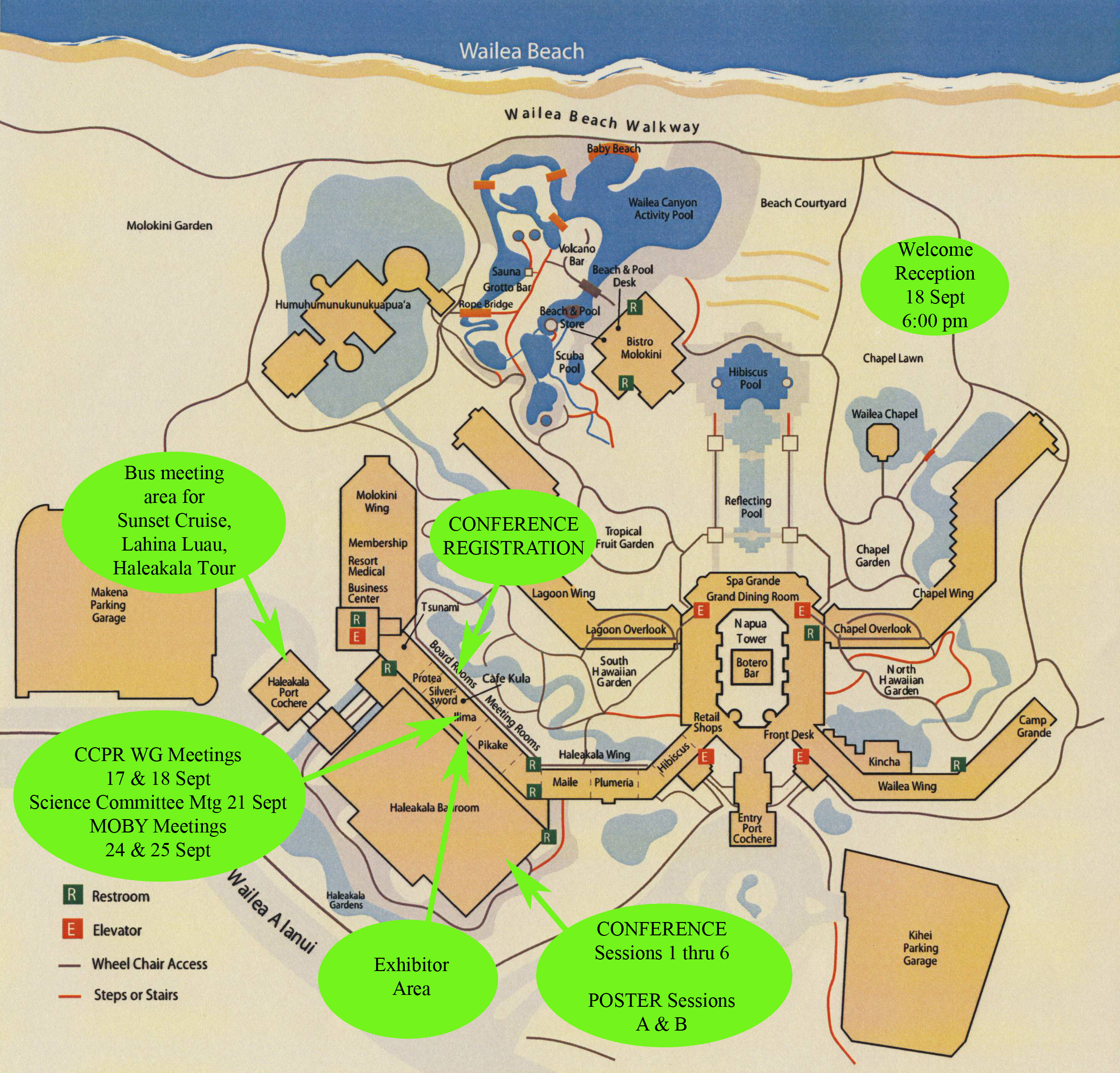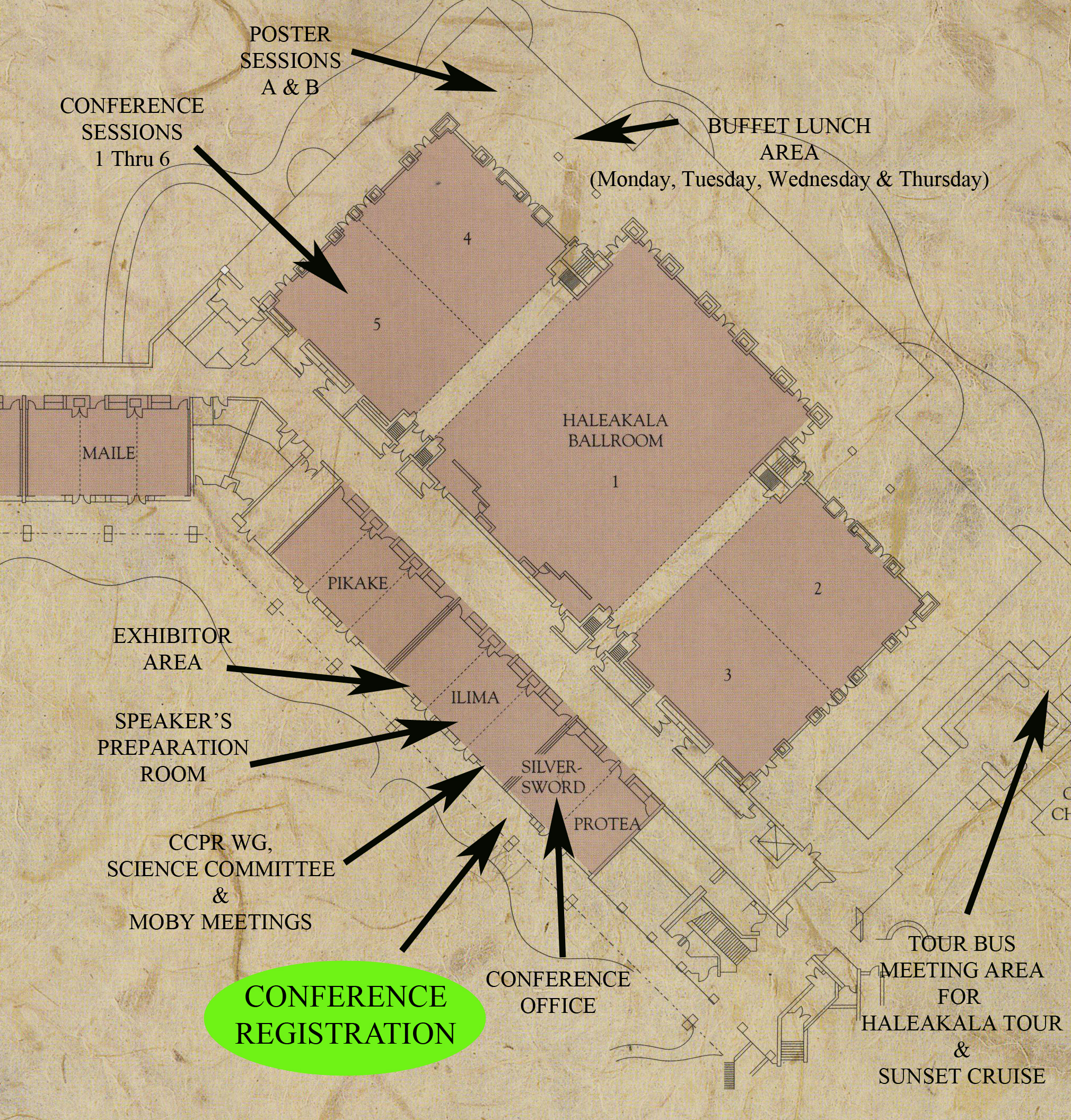 Invited Speakers
Mark Yarbrough, Moss Landing Marine Laboratories, Multi-input fiber optic coupled spectroradiometer and applications in ocean color measurement
Carol Johnson, National Institute of Standards and Technology, NIST efforts for calibrations in Earth Observation programs

Kurtis Thome, NASA Goddard Space Flight Center, Calibration Accuracy for Climate-Quality Data sets from Space Observations
Erik Richard, University of Colorado, Future Long-term Measurements of Solar Spectral Irradiance by the TSIS Spectral Irradiance Monitor: Improvements in Measurement Accuracy and Stability
Wolfgang Finsterle, Physikalisch-Meteorologisches Observatorium Davos, Cryogenic absolute radiometer for total solar irradiance
Seongchong Park, Korea Research Institute of Standards and Science, Integrating sphere photometers designed for solid state lighting
Armin Sperling, Physikalisch-Technische Bundesanstalt, Tuneable lasers for photometry and radiometry
Farshid Manoocheri, Aalto University and Centre for Metrology and Accreditation, Predictable Quantum Efficient Detector (PQED)
Daiji Fukuda, National Metrology Institute of Japan, Novel photon detector utilizing superconducting light detection technology

Cancelled: Stephan Götzinger, Eidgenössische Technische Hochschule Zürich, Single-photon sources with near unity efficiency

Alan Migdall, National Institute of Standards and Technology, Bridging the Gap: Radiometry from Watts to Single-Photons
Special Sessions

Earth Observation, chaired by Nigel Fox, NPL

Few Photon Metrology, chaired by Dong-Hoon Lee, KRISS


Important Note for Presentations

It is requested that all posters be no larger than 45" x 45" (114.3 cm x 114.3 cm). Poster boards will indicate the reference code found in the Detailed Program for each poster. Posters in Poster Session A should be put-up on Tuesday morning and removed during Tuesday night and correspondingly for the Poster Session B on Wednesday. Poster authors are expected to be close to their posters during the respective poster sessions.
Invited talks should be 25 minutes in length, with a 5 minute discussion and question time. Contributed oral presentations should be 15 minutes in length, with a 5 minute discussion and question time. A computer will be used for the projector-based presentations; authors should bring their presentations on USB sticks. Presentations will be collected before each session or the day before and installed on the main computer; details will be announced during the conference.